http://www.hari.ourfamily.com OR http://members.tripod.com/nagasrihari/main.htm
Best viewed with Netscape Navigator

<-- click here for a free download

Topics of Interest
About Myself
My Guru, Sri Sri Ravi Shankarji, founder of " The Art of Living "
My Family : Snaps of My Parents and My Partner & Myself
What I am understanding about LIFE
My Favourite Sites
To send your comments on this Home Page, please contact Srihari Rajole.

About Myself

Who am I ? What am I ? Where am I ?
When you ponder on this question, you cannot answer it immediately. Try to unravel this puzzle, I know your are going to break your head. Do the "BASIC COURSE" of the Art of Living then these Questions will be Answered.
I am Srihari Rajole. Rajole is my Family Name. Rajole is a small town in the Southern State of Andhra Pradesh. I was born at Eluru, West Godavari District, Andhra Pradesh in 1972. My birthday- 28th August. I studied upto VI class in Maharashtra at Nagpur, the Orange City. You are right, Nagpur is famous for Oranges. My school - Saraswati Vidyalaya. From VII I studied at St. Theresa's High School, Hyderabad. Hyderabad is the capital city of Andhra Pradesh. It is a 400 hundred year old city. My Junior College, St. Mary's Junior College, (Abids-1st year. Himayat Nagar-2nd year).
I did Engineering at Bapatla Engineering College at Bapatla , Andhra Pradesh. I did my B.Tech in Electronics and Telecommunications in short ECE. Bapatla is a beautiful town with the lots of greenery. It has the prestigious Agricultural University - Andhra Pradesh Agricultural University. There is another college - Home Science college. Not much is known to me except for the beautiful women who studied in this campus. 10 kms from Bapatla is the famous Navy Base, SuryaLanka on the shores of the Bay of Bengal. I represented my College in the Cricket Team and in Dumb Charades.
I worked in Chennai, old name for Madras for a period of 1 year. Later I came to Abu Dhabi with the help of my Uncle, Sri S. A. Rajole and got into Emirates Telecommunications Corporation . I am with ETC from last 4 years . I am working as a Radio Engineer. Abu Dhabi is the capital of the United Arab Emirates. It is a thoroughly planned beautiful city.
HOME

My Guru, Sri Sri Ravi Shankarji, founder of the "The Art of Living"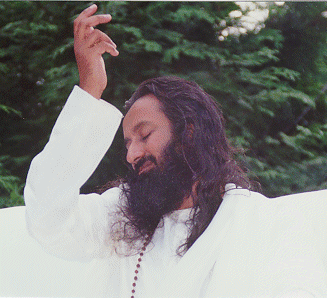 An embodiment of innocence, love, exquisite Grace and Supreme Knowledge, Sadguru Sri Sri Ravi Shankarji has filled life on earth with the fragnance of his love and knowledge. Every moment with him is alive with mischeif and humour, yet so profound. With extreme simplicity and benevolence, life's complexities just disappear in his Presence.
Gurudev, as he is lovingly called, was born in an eminent family of South India. At the age of four, he could recite the entire Bhagawad Geeta. Since early childhood, he found rapt in meditation for hours. To his school friends he often stated, "My family is the entire Universe and people over the world are waiting for me".
At the age of seventeen, on completing his education in Ancient and Modern Science, he travelled from country to country, creating a tidal wave of knowledge and devotion. With his "Art of living" course he showed people everywhere the way to become stress- free and get rid of their day-to-day problemsand how to enrich life with Divine qualities. The huge multitudes in his Prsence show no barriers of class nor religion. The young and the old, men and women, theists and atheists, have exerienced love and an awakening. One loving glance, a gesture, a touch, a smile is enough to dissolve ego and bring a lasting transformation in life.
HOME

My Family :Snaps of My Parents and My Partner & Myself

My Parents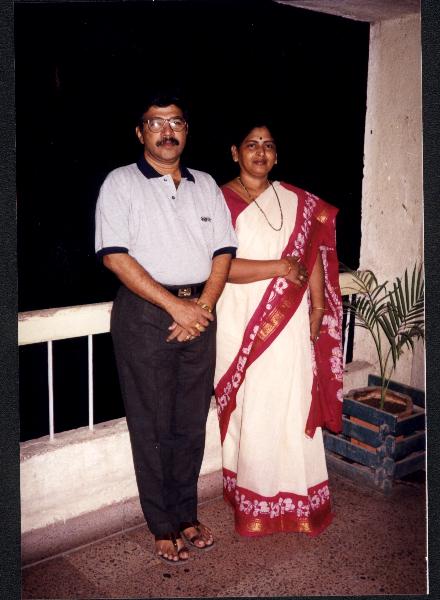 This Snap is of My Parents. My father Sri R. Ramam is working for National Bank Of Agriculture and Rural Development. He has lots of experiencing in Banking. My Mother Smt R. Mangatayaru is a housewife now. She worked as a teacher before. I feel lucky that they are my parents.
This Snap was taken in Shirdi, the birth place of Shirdi ke Sai Baba. This snap was taken in May, 1998.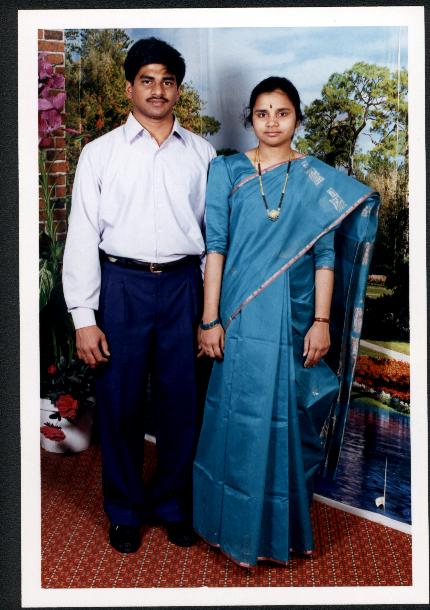 This snap is of My Partner and myself (who made this HOME PAGE). This was taken in 1997 when my partner joined me after my marriage in Oct, 1996. My Partner is a Biomedical Engineer from College of Engg, Osmania University. She always secured more marks than me. Hush...
My favourite songs:
Ye Divi lo virisina Parijatamu....

HOME

What I am understanding about life

Never Follow your feelings
I have yet to understand life fully. But these are some of my Lessons in life, mostly learnt after doing the Basic couse of the Art of Living. The heading- "Never Follow your Feelings" is so true. Sri Sri Ravishakarji says Never Follow your feelings, if you follow them then you will be ruined. Follow your commitments, your wisdom. But I have yet to follow this.
He says when somebody says something to us we get so bogged down by their words. But He says not to become like a stone in the stream of water known as LIFE and think about it. But be like a piece of wood and flow with the current of the water. Life is much simpler. Think about it.
About Control: Nothing is in our control according to Him. Is our heart beat in our control? Is our mind in our Control? Are our feelings in our control? Ponder on this.
HOME

My Favourite Sites

Sites which I visit regularly
Art of living
Andhrapradesh
Cyberabad
Andhrapradesh Tourism Information
Deccan Chronicle
Another good site of AP
Andhra Pradesh Information

Thank You for your Precious Time
HOME

HOME

---